INVITATION
We are pleased to invite you to visit our booth at the upcoming Geofluid 2014 in Piacenza (Italy) - International Exhibition & Conference on Technology and Equipment for Prospecting, Extracting and Conveying Underground Fluids, 1 - 4 October 2014, where we will exhibit our complete production of drilling rigs in the new series and versions.
The Fraste stand will be the ideal meeting point for a 360 ° view of " Fraste Universe " and get a preview on the new rigs that we have developed to be always successful and competitive in the increasingly busy world of the Drilling Industry.
In our booth you will find:

as well as a wide range of technology and equipment variants for each model to get the best performances with the maximum safety, reducing investment and operational costs.
The Quality, new Technology, Experience and deep Knowledge of the product, will be the tangible evidences of our ongoing commitment to maintain our leadership in the global drilling industry; come and see our booth, it will certainly be interesting.
Than the Geofluid 2014 will be the official opportunity for us to celebrate with our customers, visitors and friends the 50° Anniversary of our Foundation - 1964/2014 in a welcoming atmosphere, with some surprises and a great desire to stay together!
Fraste staff will be glad to welcome you and show you the great evolution of our drilling rigs to be ready to face the challenges of the next 50 years!

See you in Piacenza at Geofluid 2014!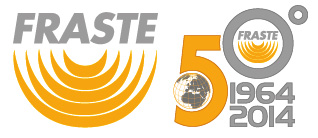 Please visit the exhibition web site www.geofluid.it and fill the free pre-registration form. Thank you.





Some pictures of past edition of Geofluid.