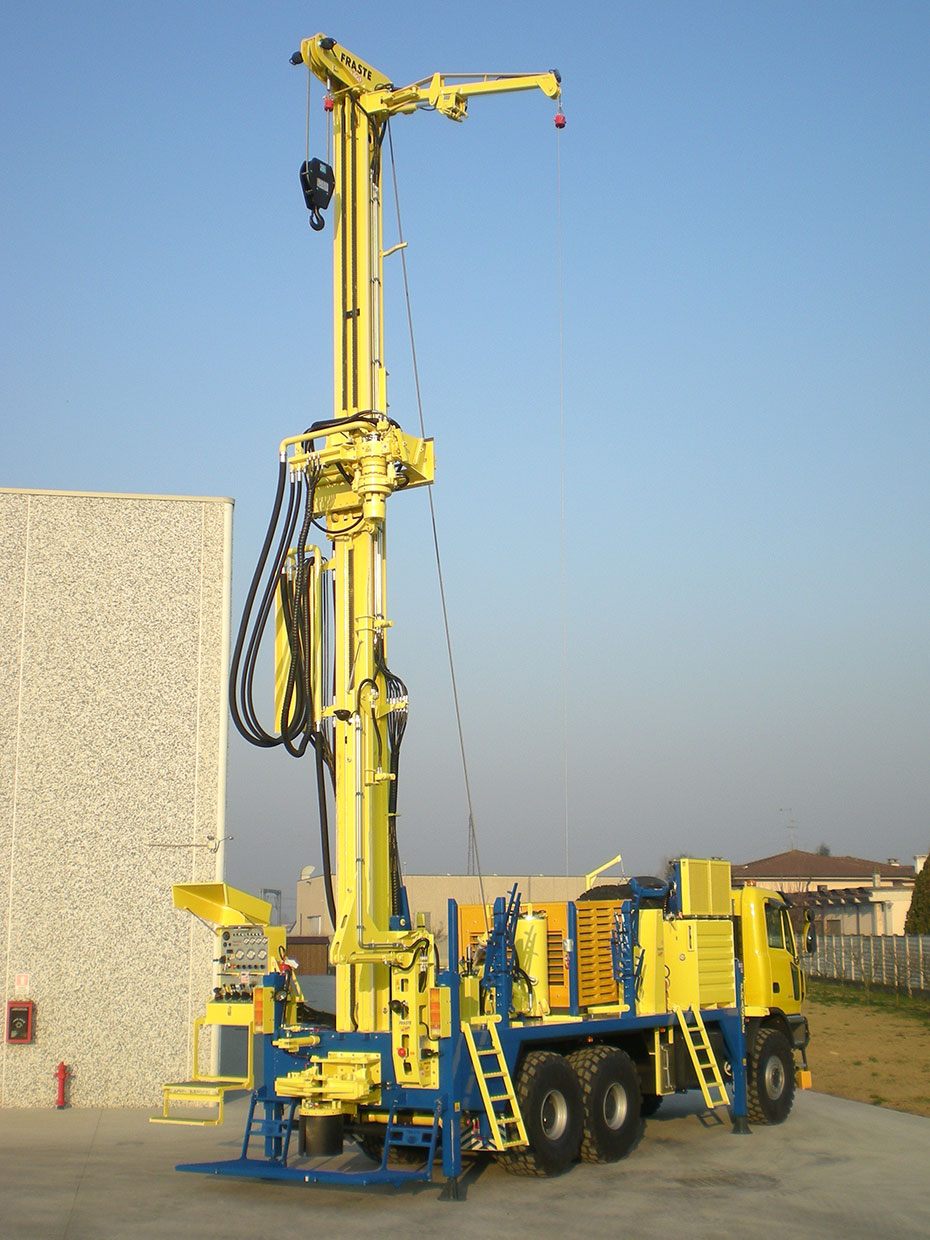 FS 300 for Geotechnical investigations and water wells in Algeria

Back again on a new FRASTE rig; it is a complete unit that we consigned to one of our very import Algerian Government Customers.
Now we speak about a off-road multipurpose FRASTE FS 300 drilling rig mounted on heavy-duty tropicalized 3-axles 6x6 – 473 HP PTO - Iveco-Astra truck carrier.
The rig is properly designed for desert operation and it is mainly used to get geotechnical investigations and explorations and water wells – 350 mt depth with hole diameter up to 12".
PTO (Power-Take-Off) Operation through truck's diesel engine.

This drilling unit can perform with different drilling methods: rotation drilling with direct fluid circulation with tricone bit , DTH hammer roto-percussion drilling, Coring and Sampling,
SPT probes
Its rugged frame incorporates all the user equipment specifications within our original Fraste design, that means high quality construction criteria under International Standards and first class components, to obtain an ingeniously compact drilling unit, well adapted to the difficult desert conditions like extreme heat and dusty/sandy places.

The main features of the drilling rig are:

4-speeds rotary head – 700 daNm max torque – 700 rpm max speed
16 ton pulling capacity
strong drilling mast - 26 ton hook load capacity
turning drill pipes carousel for 10 rods plus 20 pcs. on board drill pipes storage
reinforced-desert type hydraulic system for the whole drill rig functions, with powerful oil cooling system to withstand desert climate with 55° C ambient temperatures
desert oil filtration system is included
5" x 6" GD 560 lt/1' mud pump
21000 lt/1' – 24 bar Atlas Copco module air compressor

Than the supply was completed with a full set of drill pipes string, core barrels, drilling tools and accessories.
Fraste provided also for highly professional pre-delivery starting training and on site one-months time commissioning course for the local drilling crew hold by our international experienced and skilled technicians.
Appropriate instruction, use, maintenance and safety Literatures and highly detailed spare parts catalogues were supplied, too.