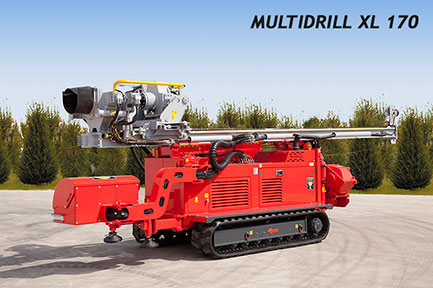 During the last Bauma 2013 International Exhibition in Munich (Germany) Fraste launched on the market the new MULTIDRILL XL 170 crawler mounted drilling rig, a very revolutionary drilling unit that with its features allows the driller a very large spectrum of drilling purposes, an overall reduction of running costs and a high safety factor being manufactured under the latest and rigorous laws and regulations to protect the health of the user and the environment.
The great Fraste knowledge and experience in mechanical manufacturing and hydraulics – since 1964 - and the constant dialogue with the contractors in the field, are the base of the development of such a new machine with so many significant advantages that take it to set a new standard in drilling performances among the small size multipurpose units.

The new MULTIDRILL XL 170 comes in three models:
• MULTIDRILL XL 170 for multipurpose drilling jobs
max pulling capacity 8 ton
• MULTIDRILL XL 170 DR with double rotary head for geothermal drilling - max pulling capacity 20 ton.
The "Fraste Geothermal drilling rig" that finds a great work within the investments for the alternative energy sources; its main feature is the capability of working with two rotary heads
that allow the continuous and simultaneous advancement of drill pipes and casings.
• MULTIDRILL XL 170 Max with "Fraste" automatic drill pipes loading system ''Manipulator'' to make more efficient the drill pipes handling, with great safe and precision.

The MULTIDRILL XL 170 can work with any traditional rotary drilling system, as direct and reverse air or mud circulation, traditional and diamond coring, exploration coring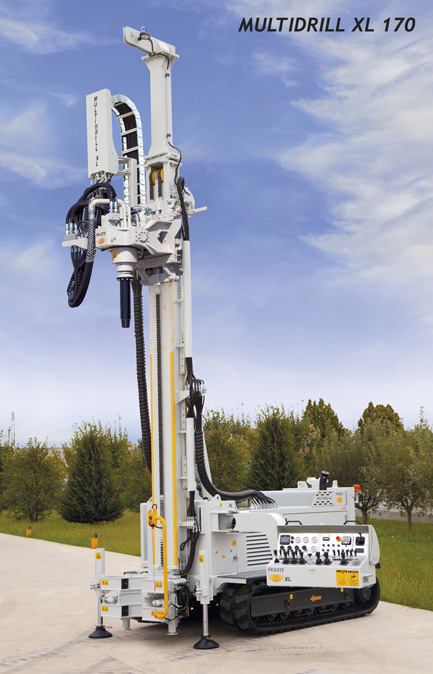 and RC as well as double rotary and ''Sonic'' drilling. Its many available components and accessories allow the machine to be adapted for meeting an extensive range of applications such as soil investigation, exploration drilling, geothermal drilling, micro-piles, water wells, seismic.

Deeply speaking, it is the ultimate release of the most popular MULTIDRILL XL, based on the same innovative design, that now foresees a more powerful engine (John Deere 170 HP) and a lot of new features that increase its rate of productivity.
Beside a greater diesel engine (the original Multidrill XL features a 140 HP power unit) that enlarge its range of performances, it includes a larger main frame to accommodate a stronger drilling mast and a last generation hydraulic system that allows many alternative applications of pumps for collateral services.
The top drive rotary head develops 1920 daN torque – with 1000 rpm max speed.
The innovative control panel mounted on turning arm gives the operator the best visual of drilling area and drilling components in any time.
Remote radio control is well available, to remove the driller from danger drilling area.
The compactness of the Multidrill XL 170 allows an easy drilling place access, great manoeuvrability and uncomplicated transport solutions.
It is the perfect match point between drilling capacities and economical investment since it is a very compact unit with high performances that can work with all drilling systems, that means a very competitive job in any drilling situation, quick set-up, lower lifecircle costs and easy-to-use operation.