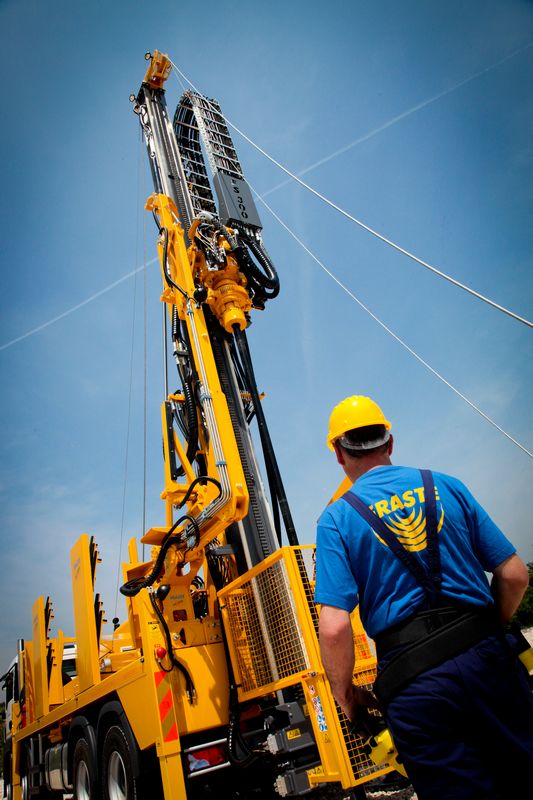 DRILL 2012 in Adelaide will be the opportunity that Fraste will take to officially introduce the new series of EXPLORATION drilling rigs that are newly designed to increase the drilling rate, combine several systems and assure the maximum safety factor.
The new Exploration drilling rigs Series is specially dedicated to W/L Diamond Coring, DTHH RC and Air Core, or more systems combined together with the MULTIPURPOSE version. It includes the FRASTE models FS 250 – FS 300 - FS 400, that can be developed with many different versions thanks to the wide choice of features to get always better performances and higher safety and at the same time saving investment and operating costs.
The EXPLORATION drilling rigs series is the newest technical solution for all exploration drilling jobs thanks to its innovative technologies that minimize the environmental impact, allow an easy-to-use operation also in the most extreme conditions.
At DRILL 2012 a new Multipurpose FRASTE FS 300 drilling rig will be exhibited and there will be the opportunity to really see the high construction quality and the wide drilling opportunities that can be exploited with the NEW MULTIPURPOSE ROTARY HEAD CRH1700, with max torque up to 1360 daNm and max speed up to 1400 RPM. It is fitted for wire line coring and for RC kit for hammer reverse circulation and air core. This new top performances 4-speeds rotary head has the following gears, featuring actually the best combinations torque/rpm now in the market:
1st speed daNm 0 ÷ 1361 / rpm 0 ÷ 111;
2nd speed daNm 0 ÷ 873 / rpm 0 ÷ 172;
3rd speed daNm 0 ÷ 212 / rpm 0 ÷ 710;
4th speed daNm 0 ÷ 107 / rpm 0 ÷ 1400.
all speeds have hydraulic selection from control panel.

This FS 300 drilling rig includes the mythical Fraste automatic rods handling system "Manipulator" for a very easy, quick and safe drill pipes loading operation.
As well as COMPLETE RADIO REMOTE CONTROL for all drilling operations and rods handling that can be fully controlled out from danger area. This all-hydraulic heavy-duty rig is mounted on a rugged 4-axlex 8x4 MAN truck that gives the best mobility through any place; operation by a deck mounted C9 350 HP Cat diesel engine, and nr. 2 FMC pumps W1122 + 1 Mission centrifugal pump 4x3x13'' for any fluid circulation and mixing need.
Standard performances: 1000 meter depth HQ diamond coring and 300 meter depth with DTHH RC.
Many other details and technical innovations are built-in in this FS 300 special drill rig and the best way to verify that for Fraste Quality is not a cliché, is to come at DRILL 2012 and understand that 50 years of experience in drilling rigs manufacturing are really a high worth.
Fraste highly experienced and trained people will welcome all visitors at their booth to supply them with all info about "Fraste Universe".
In this occasion FRASTE officially communicate to the Australian Drilling Industry about their local branch the "Fraste Drilling Rigs Australia" located in Fremantle. Fraste Drilling Rigs Australia permits a close commercial and technical assistance to the Australian markets thanks to its skilled and well experienced people, it will enlarge the action ray of Fraste drilling rigs through Australian territories, knowing better the drilling requirements of the contractors involved within exploration and water well drilling.

For more information click here!