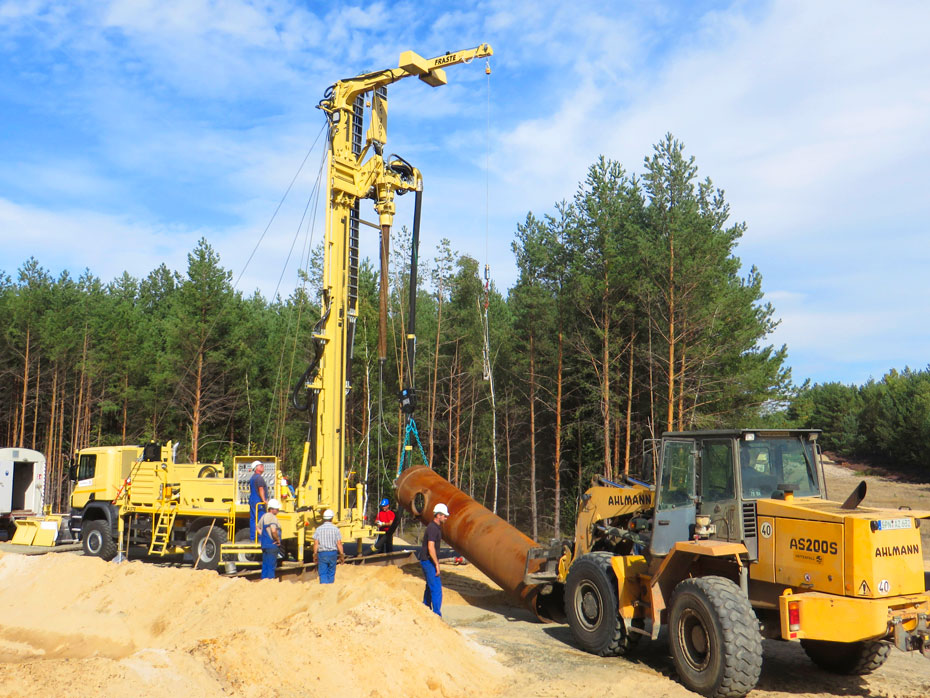 Fraste helps in electric power production! How? Using the FS 300 Drilling rig!


The Fraste FS 300 drilling rig for water wells supports the power production industry by dewatering drilling in coal opencast mines in Germany.

Fraste awarded a Contract for the supply of one water wells drilling rig, as a result of a tender participation launched in 2014 by a multinational energy Corporation.

The Swedish company, who's working also in Germany, needed a water wells drilling rig for the aquifer dewatering in opencast coal mines in which they are operating, for big diameter drilling (up to 1 meter) using mud reverse circulation drilling method.

After a deep analysis of the technical specifications required by the customer and jobs to be performed, Fraste proposed the FS 300 drilling rig, a perfect combination of quality, technology and reliability adaptable for any different drilling methods.

Here are mean features of the rig:
Large diameter drilling rig with reverse mud circulation, 16 ton pull-up, mounted on a Scania truck 6x6, with Power Take Off (PTO) device engine.
2-speed rotary head ( 1st speed 1800 kgm @ 75 rpm; 2nd speed 900 kgm @ 150 rpm) with internal free passage 177 mm - chuck for easy, fast and safe double-skin drill pipes handling (diam. 216mm).

The FS 300 was delivered in Germany last September 2015, and passed all strict tests and proofs required by the Contract, sign of great reliability and quality of Fraste products.

For two weeks period one of highly skilled Fraste technicians carried out the on-site training course for the local drillers. The FS 300 was a great success, both in terms of efficiency (working 24 hours a day) and reliability.
In terms of certifications, the FS 300 reached the German mining safety tests and the noise emission test provided for in the European regulations UNI EN 791-2009.
Above reasons have taken the customer to confirm a copy order for a second drilling unit, thanks to the great working success of the first FS 300 drilling rig. The second one is already under production and it will be delivered on May 2016.
The FS 300 drilling rig is wholly adaptable and versatile to meet any different drilling challenge, its hydraulic system works with bio-oil for a better care of the environment.

Another success for Fraste water wells drilling rigs that confirms once more the passion, the reliability and the professionalism in our work, by following the needs of the customer, customizing the rigs and supporting him from the first step and forever.