The New MITO 60-SONIC drilling rig – an extraordinary mix of Technology and High Innovation and Experience between Fraste and Eijkelkamp SonicSampDrill! .... Meet the Difference!


The perfect combination of the great experience in the foundation drilling rigs manufacturing of Fraste with the productivity and technology innovations of Eijkelkamp SonicSampDrill, led the construction of the new Mito 60 with high vibration frequency CRS – Sonic head. A knowledge sharing and technological progress studied to ensure to the client more solutions among foundations drilling works.

One of these new MITO 60 – SONIC foundation drilling rigs for anchoring, micro-piles and piles, was recently delivered to an important Dutch foundations drilling contractor; it is equipped with a Compact-Roto-Sonic drilling head (CRS) suitable for angle drilling operations.

The high vibration frequency CRS - Sonic drilling head is designed for greater drilling rig profitability and performances.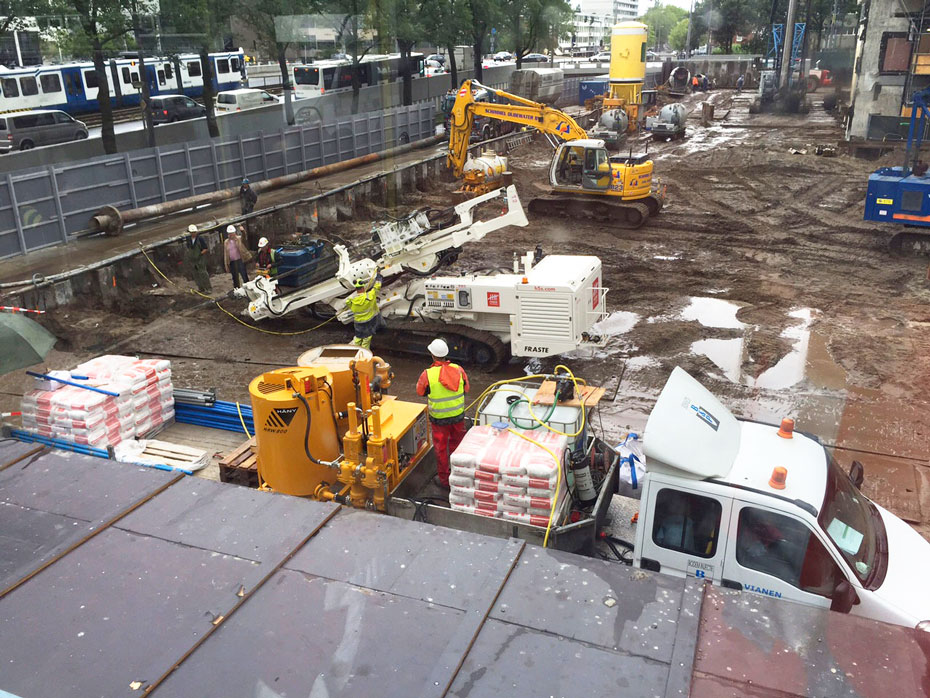 Here some technical specifications:
Foundation drilling rig mounted on oscillating crawler carrier, control panel mounted on turning arm to constantly check all machine and drilling functions, John Deere diesel engine 170 HP, drilling mast for 3 meter long drill pipes, pull-up and pull-down force 8000 daN, Compact-Roto-Sonic drilling head (CRS), Sonic vibration oscillator output force 140 kN @ 150 Hz, rotation torque 300 daNm, rotation speed 0-120 rpm.

The great customization of drilling rigs provided by Fraste and Eijkelkamp SonicSampDrill to the customers are the keynotes that make the difference and give practical solutions for all needs.

This Dutch Mito 60-SONIC drilling rig was consigned on July 2015 and put it immediately at work. With immediate and fully satisfaction of the customer that recognized all qualities and values built-in into the drilling rig. Pictures clearly show that!

Eijkelkamp SonicSampDrill with their technology and innovation systems will be at Fraste stand at coming Bauma 2016 exhibition in Munich – Germany - from 11 to 17 April 2016; over there you will see the new Fraste Xl 170 - MAX CRS, one of the most sold Fraste drilling rigs model, worldwide

Fraste XL 170 – MAX CRS by Fraste and Eijkelkamp SonicSampDrill.