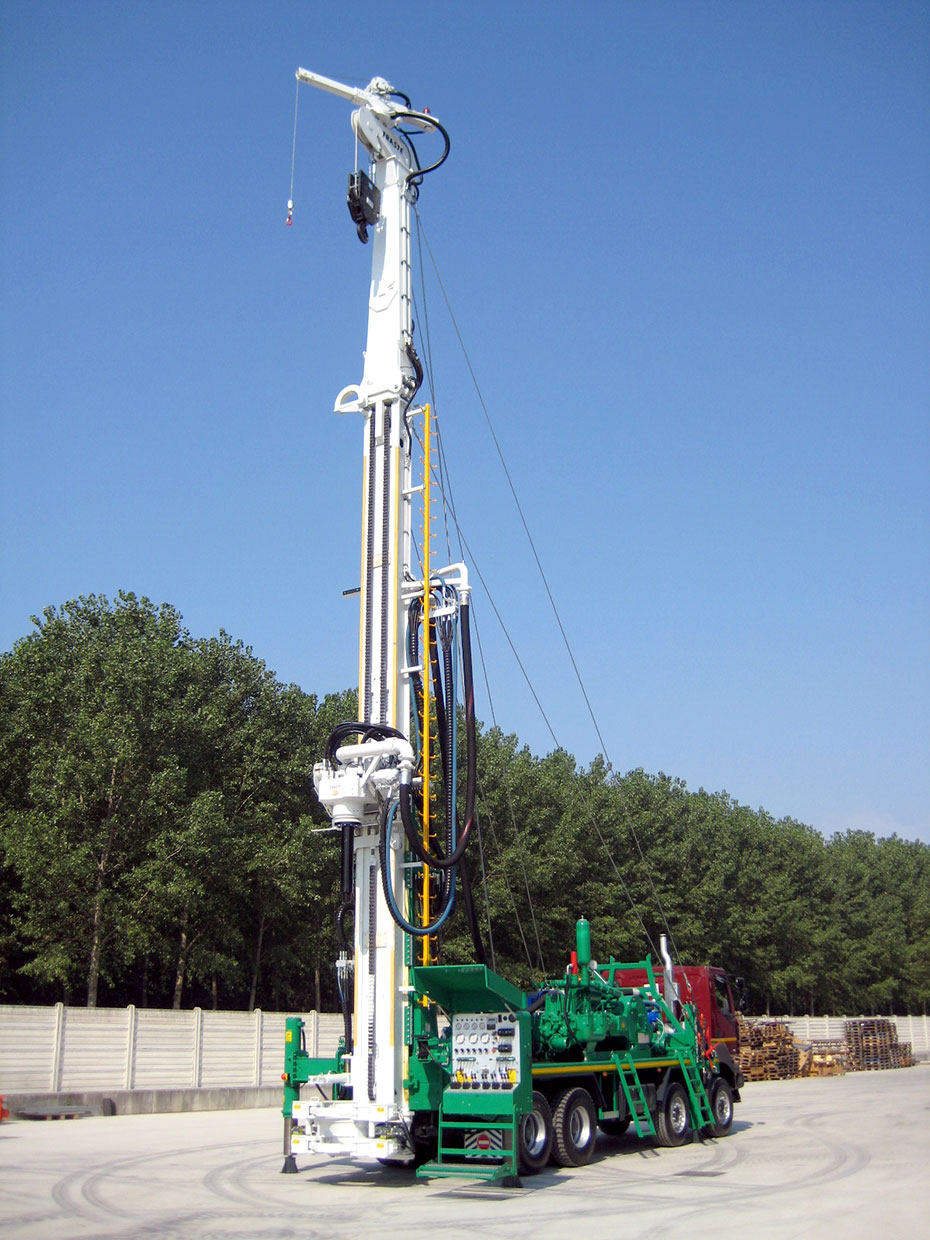 We are pleased to talk to you of one drilling rig FRASTE FS 500 (40 Ton pulling capacity) mounted on 4 axles truck carrier, that we have recently delivered to a customer of ours in France
This new and very impressive machine is the result of latest FRASTE technical developments and customer particular needs, and we are glad to describe you here below its main characteristics:

FRASTE FS 500 mounted on 4 axles Renault Kerax Type 450.32 8x4 truck carrier supplied by the customer – powered by truck's engine by PTO (Power-take-off) device.
Max. width mm 2500 - GTW 41000 kg.


Four built-in in the frame hydraulic telescopic stabilizers with mechanical locks.
Pull up capacity 40000 kg.
Pull down capacity 22000 kg.
Drilling mast for mm 6000 drill pipes.
Mast extension, hinged type with 14,5 mt clearance from traveling block and clamp table for Range 2 casings lowering.
Hoist winch with travelling block with 40 ton pulling capacity.
Digital display placed on main control panel for winch/block weight control.
Mast safety ties with steel cables.
Safety ladder mounted on the mast with safety hook and belt.
R41D100 – 3 - speeds rotary head . ** NEW **
With 150 mm inner passage injection swivel for direct and reverse circulation, with following gears of rotation speed and torque:
- 1st speed: 0 ÷ 2600 daNm 0 ÷ 38 rpm
- 2nd speed: 0 ÷ 1300 daNm 0 ÷ 75 rpm
- 3rd speed: 0 ÷ 650 daNm 0 ÷150 rpm
Duplex action piston mud pump type Ballerini 7 ½'' x 10''.
Max delivery 2260 lt/1' – max pressure from 21 to 40 bar.
Jib boom with hydraulic rotation +/- 180° mounted on the mast head with telescopic arm.
Double clamp Ø 80 ÷ 520 mm with hydraulic side opening system for
1000 mm free passage.

This machine will mainly work for deep water well drilling, with direct and reverse mud circulation as well as DTHH drilling with separate compressor.

Although the considerable dimensions and capacity of this machine, thanks to its special design is still easily mobile and fast in set up, ready for working in less than one hour in the job site.